Mauron Musy supports the Swiss Red Cross
The current situation shows the extent to which solidarity and unity are essential values for society, which is why Mauron Musy has decided to support the Swiss Red Cross in strengthening these capacities and helping the people concerned. From March 25th to May 31st, Mauron Musy will donate 10% of its sales to the humanitarian organisation in order to support the actions undertaken. 10% donated to the Swiss Red Cross #Solidarity #Humanity
Eric Mauron
Christophe Musy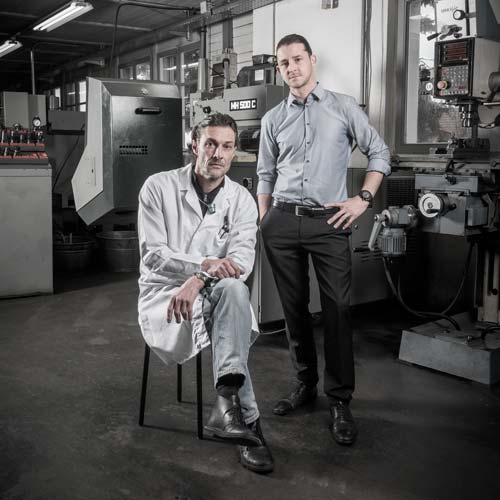 FORGET EVERYTHING YOU'VE EVER KNOW ABOUT WATER RESISTANCE
NO-RING® by
MAURON MUSYPATENTED DIRECT MECHANICAL
SEALING TECHNOLOGY
The nO-Ring® technology combines three principles: mechanical sealing technology, the clamp brace, and the satellite compression spring. A knock-on solution whose brilliance lies in miniaturising and adapting this device to watchmaking: a world first and a true paradigm shift in the field of containment, propelling the mechanical function of water resistance to the status of "watch exterior complication."
2
2
2
1
3

CLAMP BRACE AND SATELLITE SPRINGSCaseband, Bezel
and Satellite
Springs
Mechanical sealing technology must nonetheless be adapted: it is impossible to use clamping screws in watchmaking due to the risk that the latter might deform certain components. They are replaced by extremely specific clamp braces: the sapphire crystal and caseback on the one hand; and the caseband on the other. These clamp braces tense the various elements by means of specially developed satellite compression springs. If a water molecule were the size of a golf ball, it would have to travel 430km and face 3m-high hurdles in order to infiltrate the case.

mechanical sealing technology
Glass, Caseback and Ring
Mechanical – or direct –sealing technology consists of hermetically fitting various elements together without any gaskets. This technology calls for serious knowledge of materials physics and fluid dynamics. It requires hardening and then straightening or grinding of the materials in contact so as to achieve exceptional flatness and controlled roughness of the surface profile. Thus adapted to watchmaking, this approach entails standards governing the world of infinite smallness: if the surfaces involved were the size of an Olympic swimming pool, their relief would correspond to tiny waves measuring a third of a millimetre high.

CROWN DEVICE
CROWN DEVICE
The winding stem pivots inside a bearing screwed to the caseband. These two perfectly adjusted components with their nanometrically accurate fit ensure a gasket-free seal. In comparison with the diameter of the Channel Tunnel, the space between the two would amount to a third of a millimetre, the thickness of a business card. The same principle is applied to the pushbuttons.